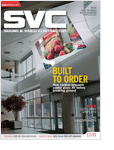 Sound And Video Contractor magazine provides in-depth applications and business-related information covering the spectrum of the contracting industry: home theater, automation, security, commercial sound, control systems and video presentation.
Sound And Video Contractor is the definitive technical resource for systems integrators and consultants and provides quality, in-depth coverage for the advancement of the systems contracting industry. It provides solutions to real-life systems contracting and installation challenges.
Sound And Video Contractor Magazine available for free. You can get it at no cost by filling the subscription form below.
Sound And Video Contractor Magazine Request Form – limited edition
Geographic Eligibility: USA, Canada
Share and Enjoy