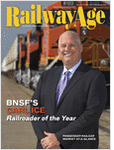 Railway Age magazine provides quality content on issues and emerging topics for professional in the rail industry. The magazine serves companies who own, lease, operate, or maintain railroad or transit equipment or facilities; shippers, railway industry related companies including professional engineer consultants, car and locomotive builders and repairers/rebuilders, original equipment manufacturers, railway and transit suppliers/contractors and government personnel.
Published by Simmons-Boardman, Railway Age gives in-depth coverage of the rail industry in the United States, Canada, and Mexico. If you are interested with the rail industry then Railway Age one of best source for it. You can get it for free by filling request form below.
Railway Age Magazine Free Subscription Form

Geographic Eligibility: USA, Canada, Mexico
RailwayAge Magazine September 2015 Features
Mechanical Marvels
Technologies to improve asset life and operational safety are among the many topics to be presented by the CMA at Railway Interchange 2015
Twin Cities Transit Triumph
Bolstered by the success of the Green Line LRT, Metro Transit is setting ridership records.
The Locomotive Landscape
2015 is adding up to be a year of innovation, and a few surprise, in the North American locomotive market.
Bee Line to Hamilton's B Line
Hamilton's C$800-million-plus LRT project is one of many rail transit initiatives under way in Ontario.
Beyond Basic AEI
Several Class I's are evaluating a rugged handheld AEI reader with a host of innovative features and functions.
HSR in the North East: What Next?
Considering the future of the NEC helps answer the questions: What are the factors governing the expansion of high-speed rail on other railroads?
Rail Roll and Reverse-Cant Remedies
TTCI is investigating short-and long-term remedies for achieving stable and consistent wheel and rail contact geometry.
Railway Age Magazine September 2015 – Free Subscription
Share and Enjoy