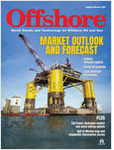 Offshore magazine for June 2011 edition has been released. You can read latest news and technology for marine/offshore operations around the world in this issue. Here are feature articles for this month.
Gulf of Mexico
GoM operators still stymied by deepwater drilling permit delays
It comes as no big surprise that there are slightly more mobile offshore drilling units currently in the Gulf of Mexico than there were a year or so ago, just before the fatal Macondo explosion and oil spill caused an almost complete shutdown of GoM drilling.
Assessing Mexico's offshore potential
Mexico's oil industry is approaching a critical juncture. The long-cherished ideal of public ownership of the country's hydrocarbon reserves is being challenged by declining oil production, rising domestic energy consumption, and greater dependence on energy imports.
Wave of new technologies debuts at OTC 2011
Contractors, vendors, and service and supplies companies introduced a range of new products and technologies at the 2011 Offshore Technology Conference held at the Reliant Park in Houston in early May.
Geology & Geophysics
Lower Tertiary remains an important exploration zone
The Lower Tertiary oil and gas play in the Gulf of Mexico remains largely undeveloped, despite the high profile it carries. It also is a relatively recent play given the difficulties encountered in its exploration and development.
Drilling & Completion
Liner drilling technology reduces non-productive time
Engineering, Construction, & Installation
FLNG concept provides attractive development alternative
Floating LNG (FLNG) concepts have been identified as a promising development option for offshore gas fields, particularly for small-medium size reserves. The offshore West Africa region is known to hold large numbers of such "stranded" gas deposits with limited commercial prospects.
Free Download Offshore Magazine June 2011
Geographic Eligibility: International
About Offshore Magazine :
Offshore magazine is the leading monthly information source for offshore oil and gas operations and deep offshore markets. It provides a rich editorial blend of international news and technology for marine/offshore operations around the world. Topics covered include seismic services, exploration, drilling, production, processing, pipelining, operating problems and design solutions.
Share and Enjoy