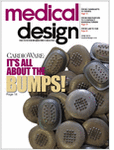 Medical Design magazine provides cutting edge technical and market information needed by design and manufacturing professionals in the Medical Device Industry to develop, manufacture, and bring to market finished devices in today's fast paced and cost conscious medical device market.
Each issue of Medical Design gives its readers the latest technical developments, innovative material and components, and critical viewpoints. Topics covered by the magazine including updates from the FDA, a medical production machine of the month, show previews, and information on tubing, electronic components, and contract manufacturers.
Get Medical Design Magazine at no cost by filling request form below. Limited subscriber.
Medical Design Magazine Free Subscription Form
Geographic Eligibility: USA, Canada
Share and Enjoy