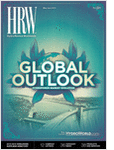 Hydro Review magazine for June 2011 edition has been released. You can read latest hydro news, technical information and expertise on hydroelectric power in this issue. Here are feature articles for this month.
HydroVision International: Planning for a Clean Energy Future
After a year of planning, HydroVision International 2011 is just a month away. More than 450 speakers and more than 260 exhibiting companies will gather in Sacramento, Calif., for the four-day event.
Bearings and Seals: Applying the Latest Technologies
Proper attention to the installation and use of bearings and seals at hydro facilities can save time and money, as well as provide confidence in the long-term operation of the plant.
Policy & Regulation: NHA Conference: Gaining Momentum
New information about America's hydropower potential bolsters a bipartisan push for hydropower legislation designed to encourage development at non-powered dams.
Asset Management: Determining an Optimal Plan for an Upgrade at Ludington
To determine the work required to rehabilitate and upgrade the pump-turbines at their 1,872-MW Ludington plant, Consumers Energy Company and Detroit Edison Company undertook a comprehensive condition assessment and life extension study. Using information from this assessment allowed the companies to develop an optimal upgrade plan.
Dam Safety: Taking a Hard Look at Flood and Precipitation Estimates for the Upper Connecticut River Basin
TransCanada wanted more accurate estimates of the probable maximum flood (PMF) and the probable maximum precipitation (PMP) at four hydroelectric projects in the Upper Connecticut River Basin. A site-specific study showed significantly lower estimates than those produced by a generalized estimate for the basin.
Free Download HRW Magazine June 2011
Geographic Eligibility: International (excluding North America). If you are in the United States or Canada, please click here: Hydro Review.
About Oil, Gas & Petrochem Equipment Magazine :
Hydro Review (HRW) Magazine provides a worldwide network for sharing practical, technical information and expertise on hydroelectric power. HRW brings together the international community sharing a common interest in hydro. This community includes: Developers, owners, and operators of hydroelectric plants and dams; Service providers, including engineering and environmental consultants; Equipment vendors; Regulators, financiers, and legal specialists.
Share and Enjoy