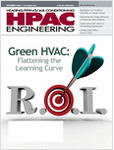 Heating Piping Air Conditioning Magazine, known as HPAC Engineering, is the premier publication for mechanical systems engineer. It's a forum for peer-to-peer communication among engineering professionals in the buildings and construction industries.
The magazine is published to help its 56,000 engineering readers provide for human health, safety, and comfort economically, efficiently, and reliably. Articles are solutions-oriented and focused on providing timely, accurate and practical information on the latest HVACR technologies, techniques and tools that HPAC Engineering readers depend on in their daily work. Areas covered include design and sizing, facility and energy management, Building Automation Systems (BAS) and controls, energy and water efficiency, Indoor Air Quality (IAQ), comfort management, and deregulation.
HPAC Engineering magazine is available for subscriber from USA and Canada only. To get this magazine for free by filling subscription request form below.
FREE Subscription Form – HPAC Engineering Magazine
Geographic Eligibility: USA, Canada
Share and Enjoy