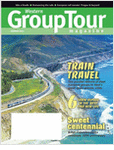 What are you doing in your spare time? do you like traveling? if you do, you get interesting travel destination in US and Canada from Group Tour Magazine.
Group Tour Magazine is the magazine group travel professionals look to for information and inspiration. You will find the greatest destinations, attractions, restaurants and lodging that cater to group travel in the U.S. and Canada! Each issue offers in-depth articles on group-friendly destinations and attractions, sample itineraries, industry news, a regional feature, a profile of a tour operator, and a guest columnist.
You can get this travel magazine at no cost by filling subscription below. If you are qualified, the magazine will be sent to you.
Group Tour Magazine Subscription Form – limited subscriber
Geographic Eligibility: USA, Canada (Print Only), Europe (Digital Only)
Offered Free by: Group Tour Media
Share and Enjoy