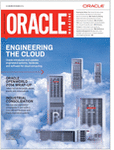 Oracle Magazine contains technology strategy articles, sample code, tips, Oracle and partner news, how to articles for developers and DBAs, and more. It is published bimonthly and distributed to more than 550,000 of the top IT managers, database administrators, and developers.
If you are a Oracle programmer or IT student, this publication would be great source for latest news, tips and How to about Oracle. You can get it for free, just fill the subscription form and the magazine will be send to your home. Note: free magazine will be send only to qualified candidate subscriber.
Geographic Eligibility: USA, Canada, Mexico, Selected International
Offered Free by: Oracle Corporation

Oracle Magazine July-August 2015 Features

Same Code, Same Standards, Same Architecture
Technical deep dives demonstrate proven cloud technology.
A Better Sense of Direction
Customers count on Oracle Cloud Platform to simplify IT.
Cloud Foundation Standards
Operating system and virtualization power the data center, the cloud, and Oracle Private Cloud Appliance.
Taming Change
Meeting the challenge of an ever-changing software development landscape.

ORACLE MOBILE APPLICATION FRAMEWORK : Add Services with a Smile
Consume enterprise web services from mobile apps via data controls in Oracle Mobile Application Framework.
PL/SQL: On Cursors, Context, Switches, and Mistakes
There are good ways, and other ways, to get data from tables.
Beginning Performance Tuning: Trace Your Steps
Trace sessions to document activity details and identify bottlenecks.
Oracle Magazine August 2015 – Free Subscription
Share and Enjoy