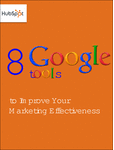 People still use Google as main search engine for research, look for reviews and shop. Not only has a search engine, Google also owned a range of assets that provide marketers with social networking and content creation opportunities.
In this eBook you will learn how to use Google's lesser known tools and learn how to use them for marketing your business. The 8 Google Tools covered by this ebook are Google AdWords, Google Docs, Google Keyword Tool, Google Alerts, Google News, Google Reader, Google Places, and Google+.
If you are interested with this ebook, you can get it for free by filling request form below.
8 Google Tools to Improve Your Marketing Effectiveness Ebook Request Form
Share and Enjoy