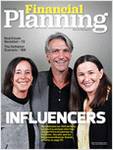 Financial Planning magazine delivers the essential information that independent advisors need to make informed decisions about their business and the clients they serve since 1970.
Financial advisors rely on Financial Planning to provide news, opinion, expert advice and practical business building ideas that independent financial planners need to be successful. Their primary concerns are their clients (building relationships), their practice (building and managing their business) and managing their client's portfolios.
If you are interested with this publication, you can get it for free by filling the subscription form below.
Free Subscription Financial Planning Magazine
Geographic Eligibility: USA
Share and Enjoy