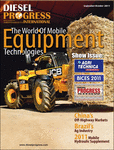 Diesel Progress International Edition magazine  is distributed to more than 120 countries outside of North America. The magazine published six times a year. It covers the products, technology and industry news in the on-highway, off-highway, stationary and marine industries. This publication dedicated to professional of design, specifying and purchasing engineers at the original equipment and component manufacturers.
If you are interested with Diesel technology and its news, you can get Diesel Progress International Edition for free by filling subscription form below – limited subscriber.
Diesel Progress International Edition Subscription Form
Geographic Eligibility: Selected International (not including USA, Canada, Mexico) (Certain countries can receive the digital version only). If you are in the United States, Canada or Mexico, please click here: Diesel Progress North American Edition.
Offered Free by: Diesel & Gas Turbine Publications
Share and Enjoy