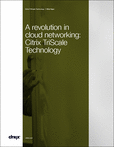 This white paper will teach you how to deploy the multi-dimensional scaling strategy you need to build an optimized service delivery fabric for web, mobile and cloud-based applications. Learn how to ensure your enterprise cloud network can scale elastically with the exact amount of performance, consolidation and capacity you need using Citrix TriScale Technology.
White paper also explains how to scale up your system and get 5x the performance on demand without new hardware. Scale Out: Expand network capacity up to 32x with zero downtime and no disruption. And scale in: Consolidate up to 40 appliances into a single multi-tenant platform.
Free request Citrix TriScale Technology eBook.
Share and Enjoy