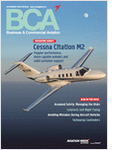 Business And Commercial Aviation has been the premier source of analysis providing unique and award-winning editorial to the business aviation market place, making it the number one publication among the world's most influential business aviation decision-makers since 1958.
This aviation magazine is the leading source of "how-to" operational and management information for the business commercial aircraft marketplace. With its unrivaled editorial, B/CA is the #1 source delivering key information to assist aviation professionals and owners and operators in business and corporate flight departments worldwide to keep flying with optimum safety and cost effectiveness.
Business And Commercial Aviation provides you its annual Purchase Planning Handbook – recognized for more than 45 years as the aviation industry's most authoritative source of unbiased, detailed, comparative data on business aircraft and equipment. It is the primary source for business aircraft decision-makers.
Get Business And Commercial Aviation Magazine for free by filling the subscription form below,
Business And Commercial Aviation Subscription form
Geographic Eligibility: USA, Canada, Mexico, Selected International
Share and Enjoy